1 of 8
Smokehouse Associates, book for The Studio Museum in Harlem, with Studio Lin
This is the first publication that looks at the work of Smokehouse Associates, an artist collective that created abstract murals and sculptures for and with the Harlem community in 1968–70. I was the sole graphic designer for this project, laying out every page and managing communications, timeline, and print production.
With art direction from Studio Lin, I designed each book section with a distinct layout using only single-size black type. There are b/w, 4-color, and special 5-color cmyk+silver signatures to highlight the use of metallic paints throughout their work.
The cover is a photograph of an in-progress mural, printed 2-color silkscreen on silver bookcloth. The book also features an endpaper foldout map of the artworks.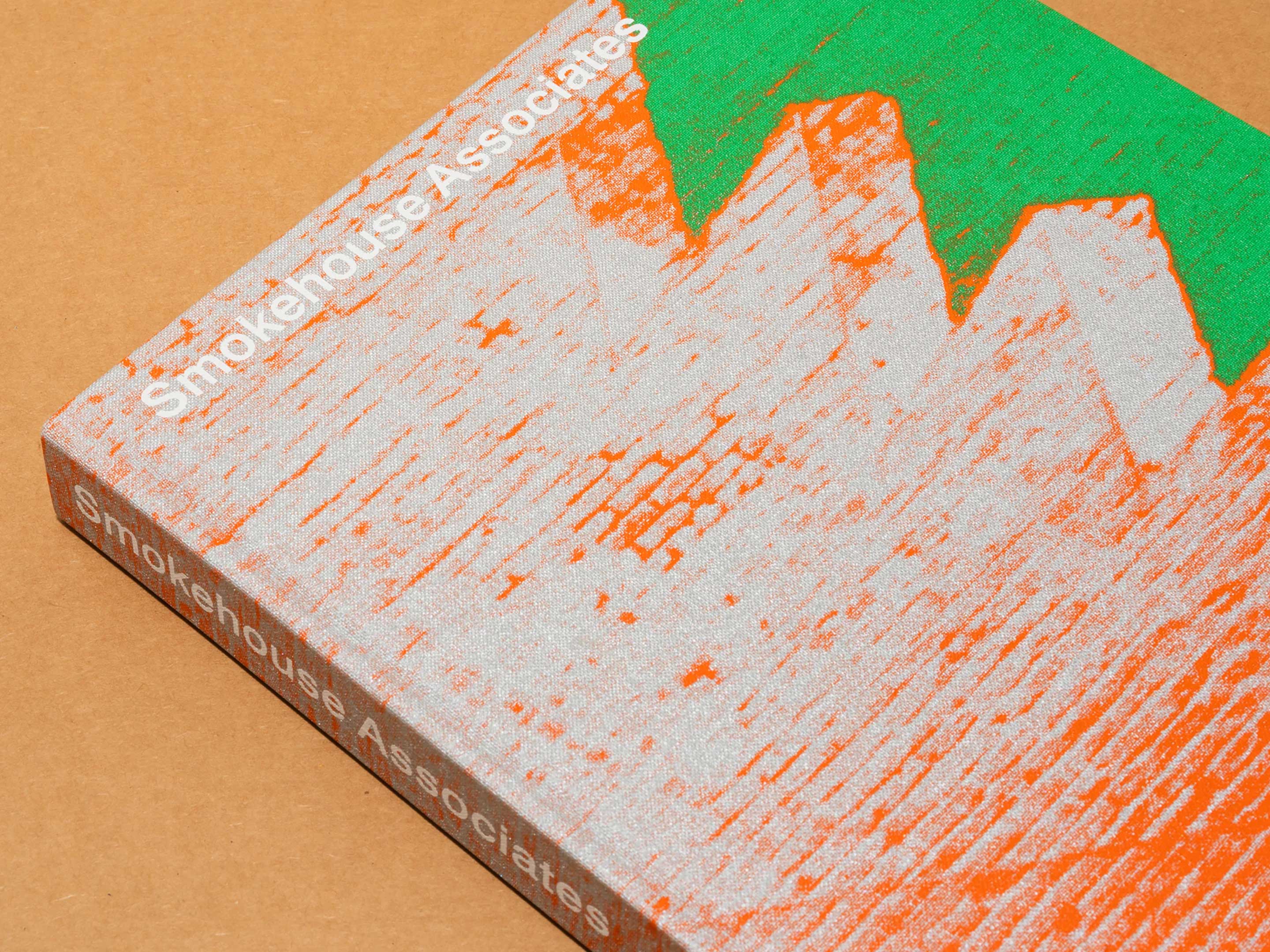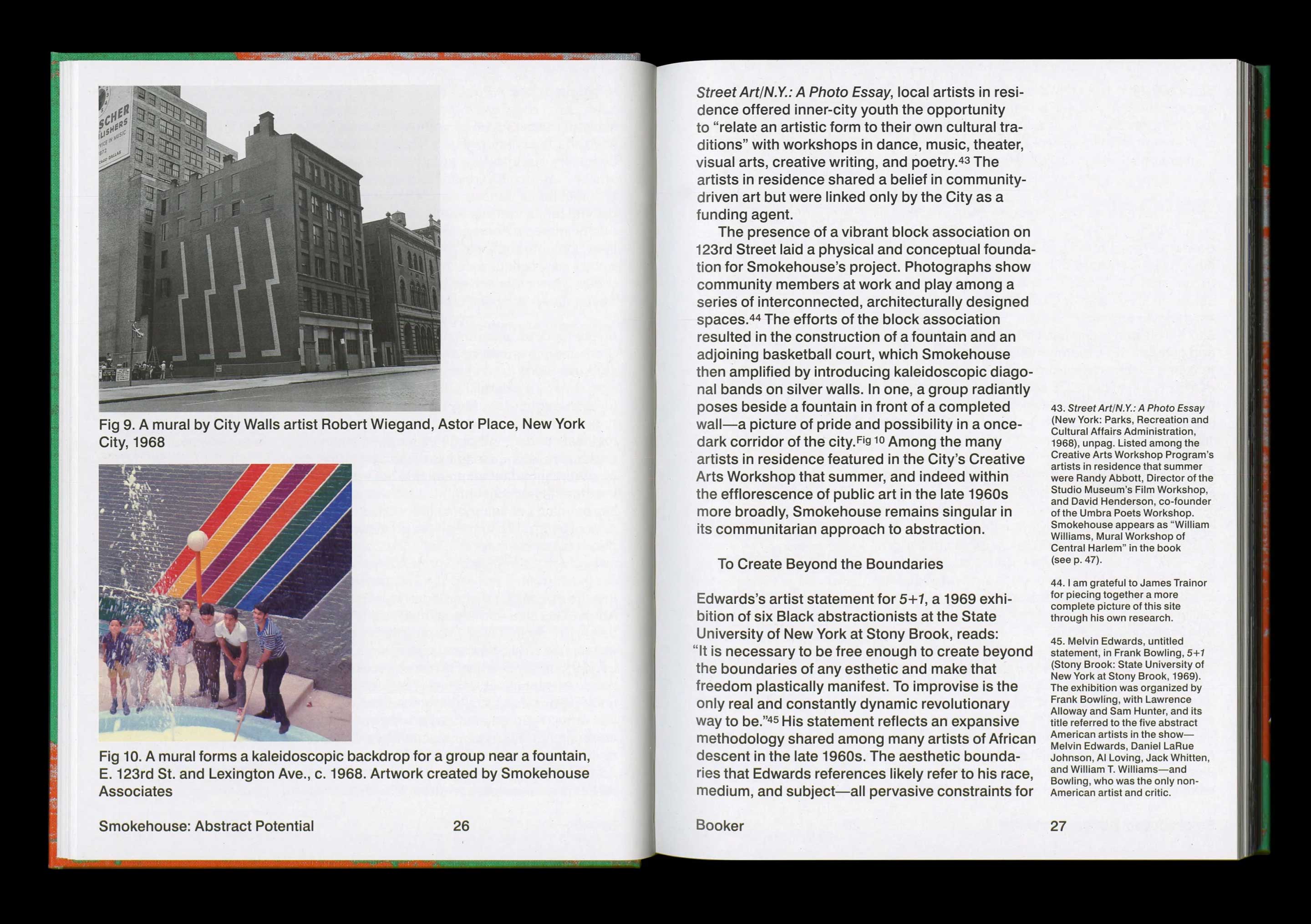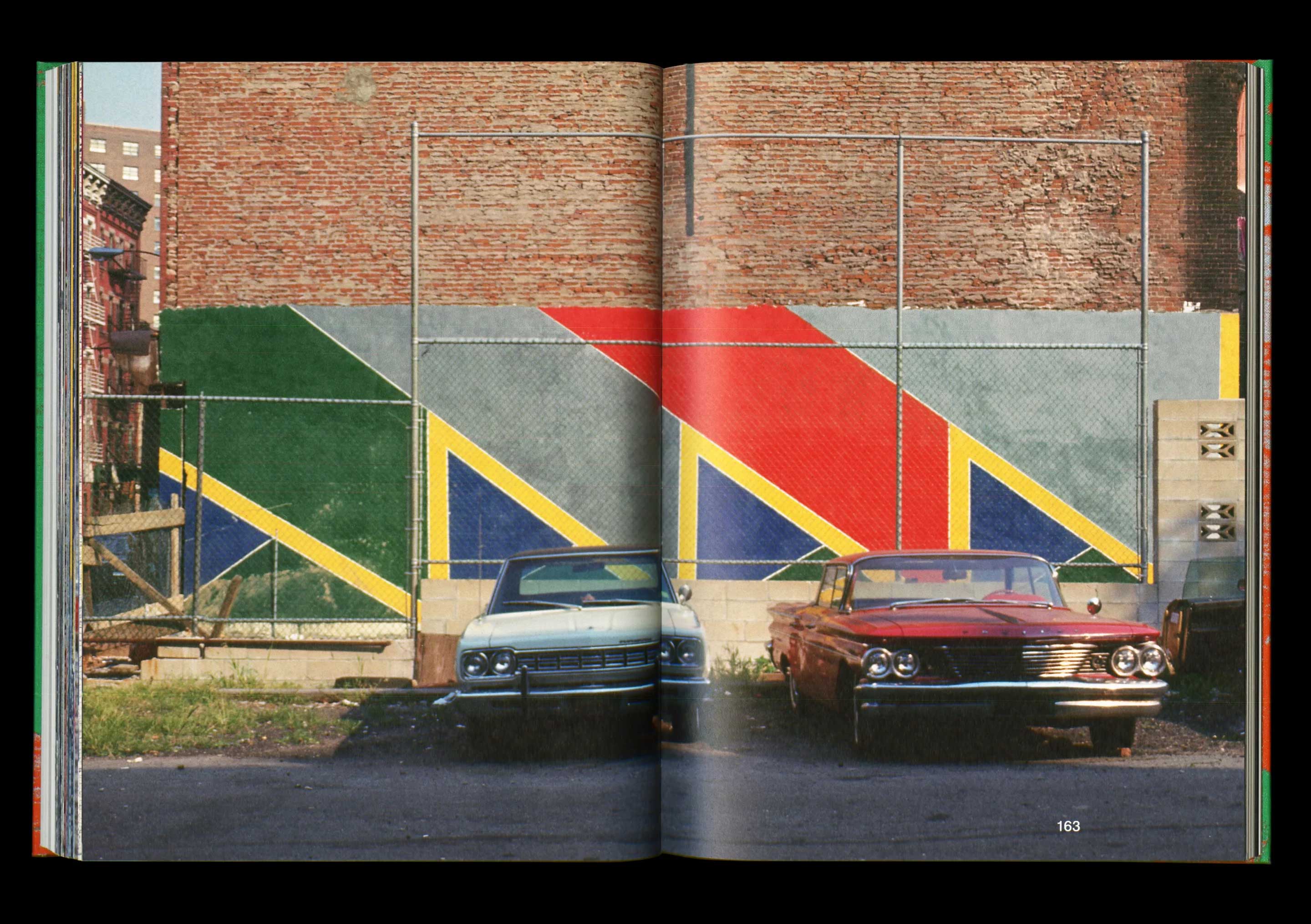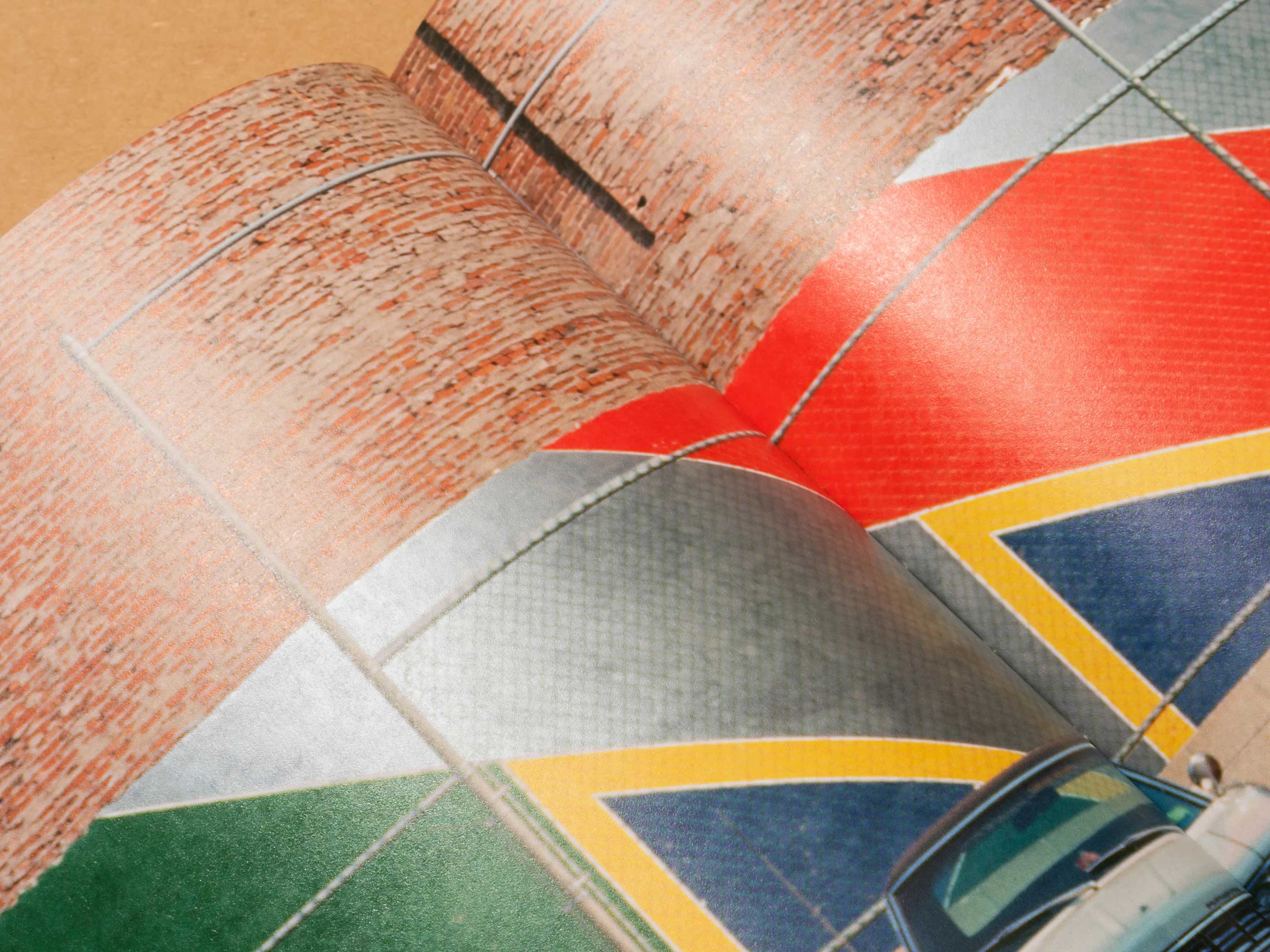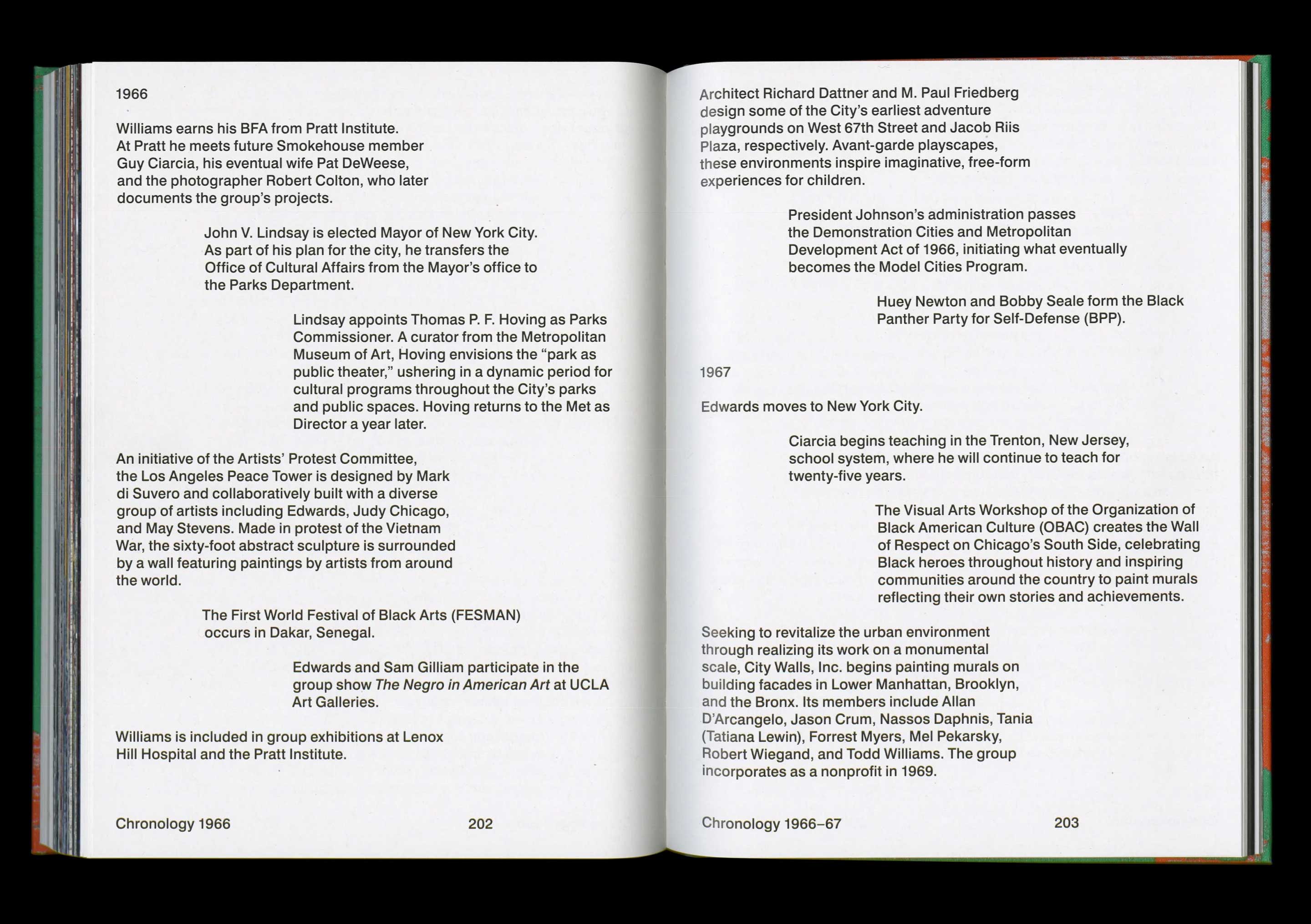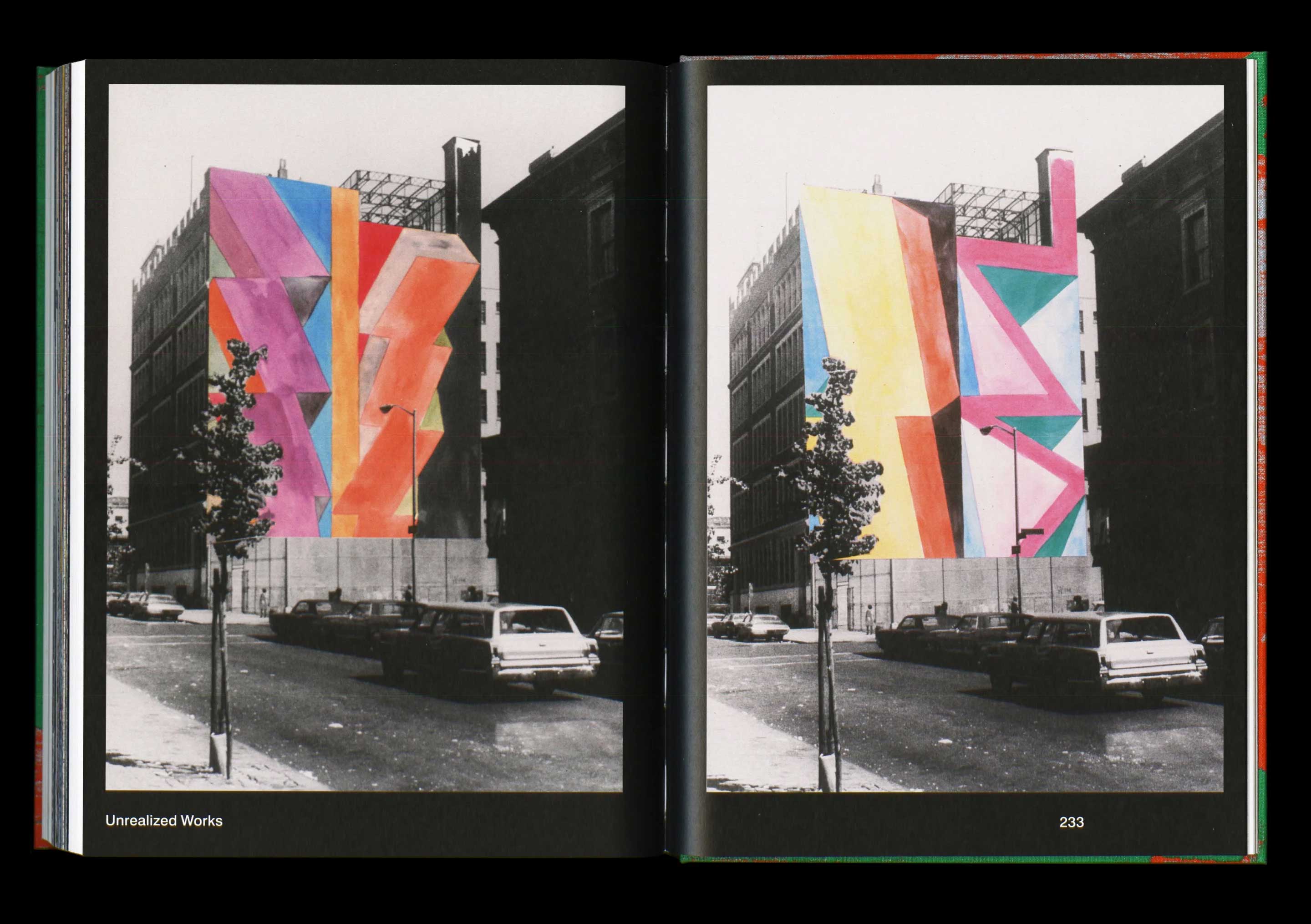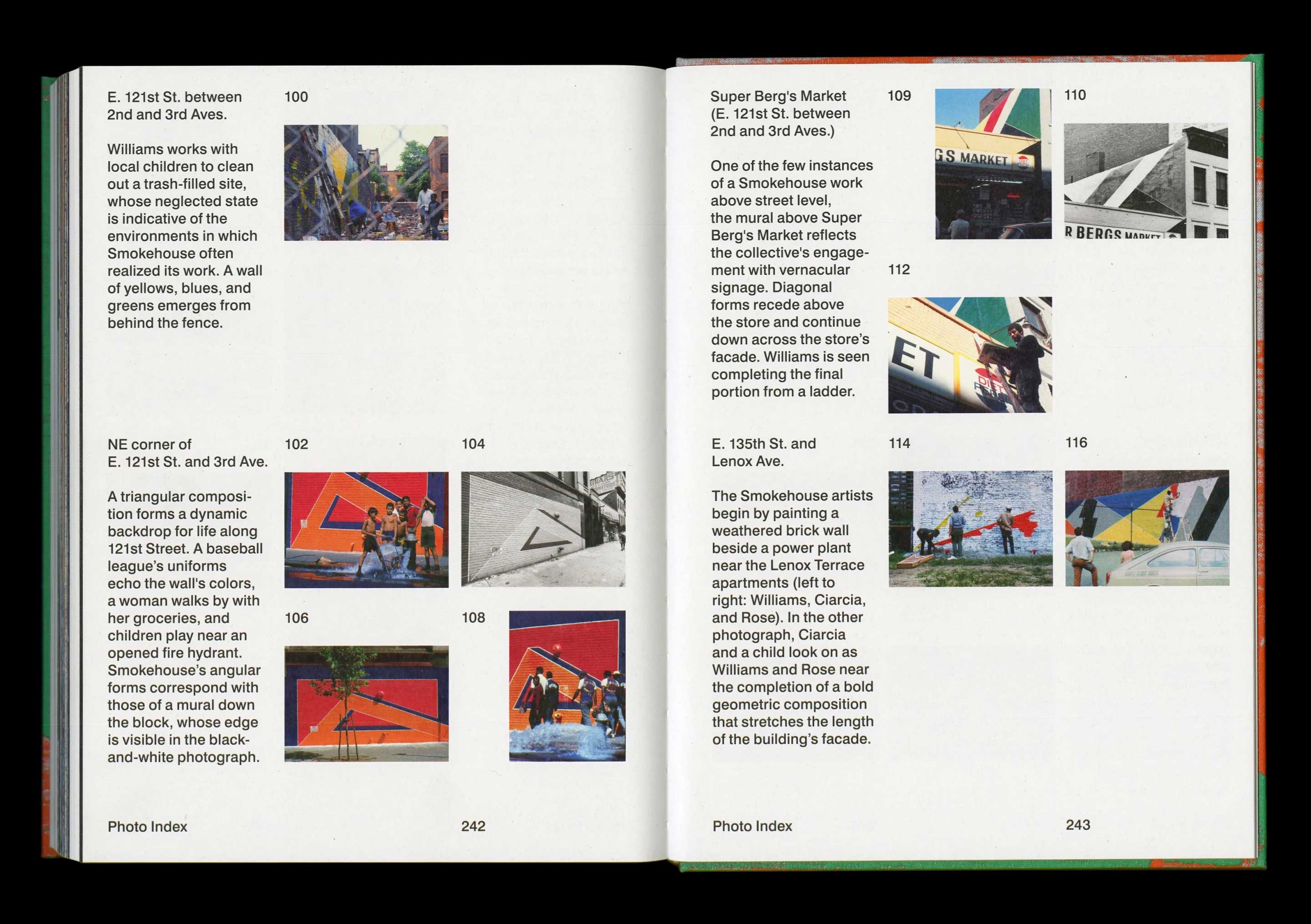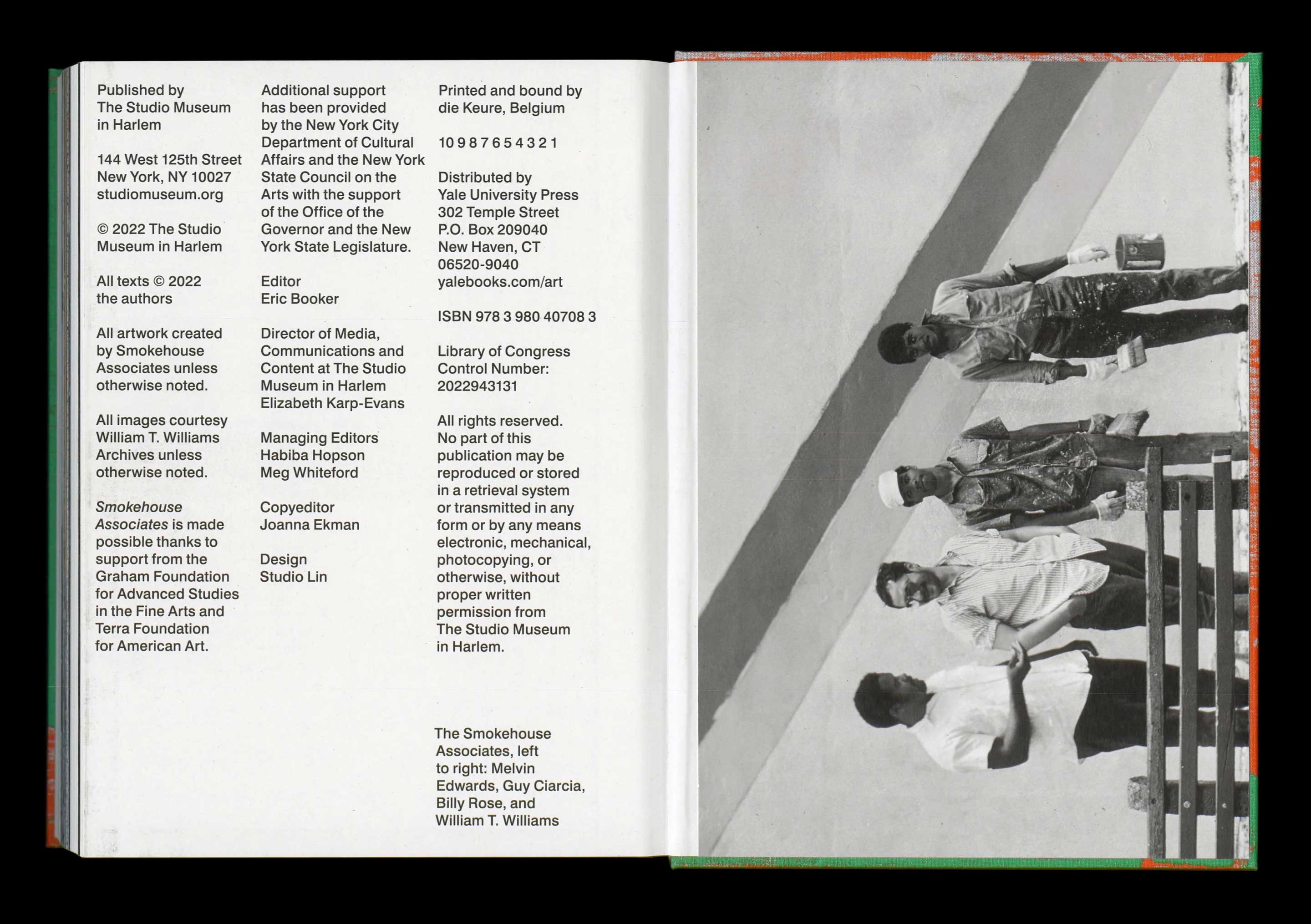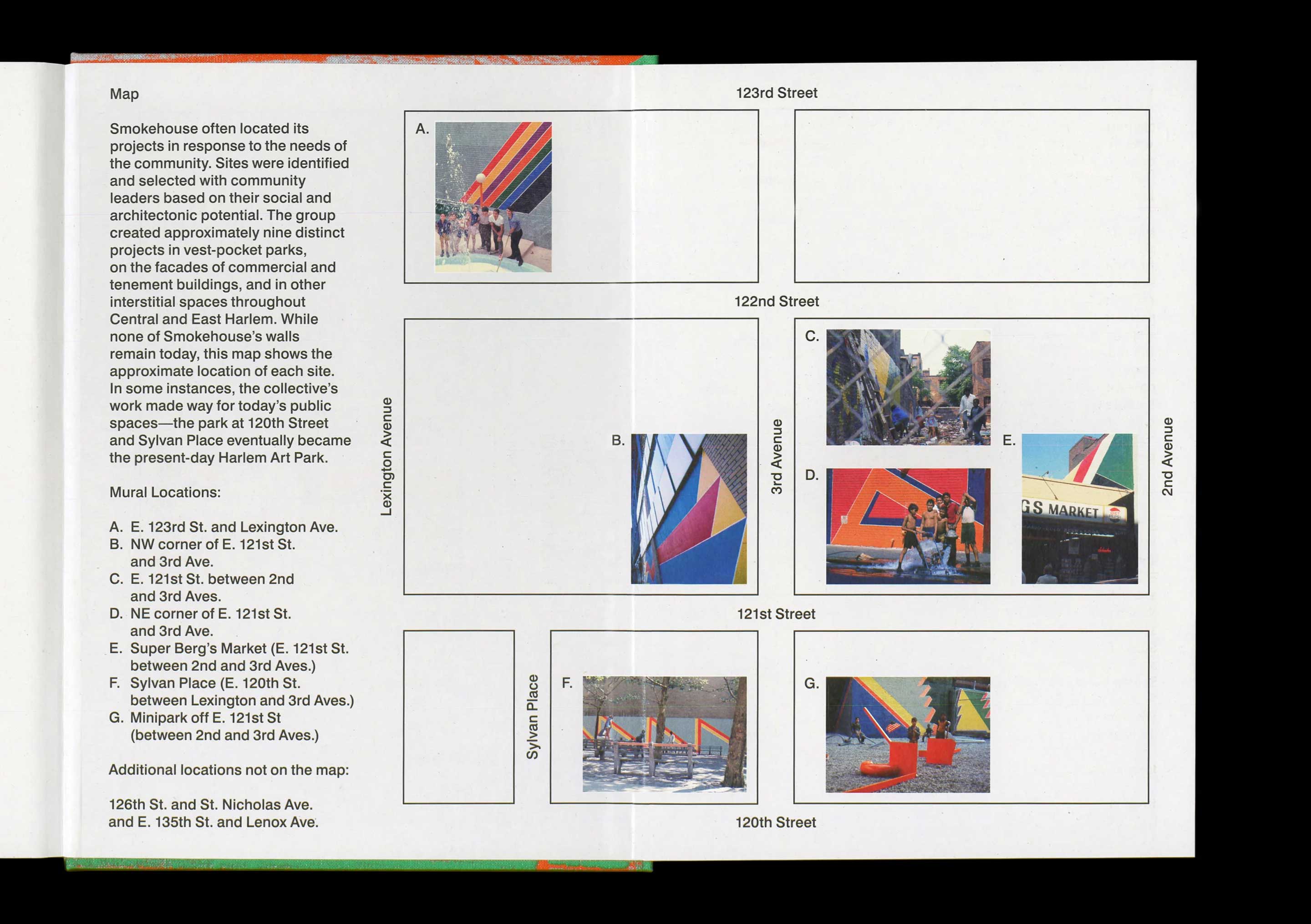 2 of 8
(662) MOS ARCH, exhibition identity and graphics for MOS Architects and Princeton School of Architecture, with Studio Lin
The Princeton School of Architecture held an exhibition featuring MOS Architects, a small architecture studio in New York City. We translated their existing identity into a physical exhibition and virtual viewing experience for those who couldn't attend in-person.
Again as the sole designer, and under the direction of Studio Lin, I developed the exhibition title wall on zippered sheets of canvas; produced an automated system through which visitors can view the entire exhibition by images and text sent via text message; and designed various promotional digital and print ephemera, including pencil pouches and stickers.
3 of 8
The Rail Park Time Capsule, website for The Friends of The Rail Park, with Folder Studio
The Rail Park is an ongoing initative in Philadelphia to transform a three-mile railway into public parks and greenway. They came to us with an idea for some kind of time capsule that would be a collection of Rail Park-related content, contributed by the local community.
I created the concept of an archive of memories that is map-forward, highlighting the locality of each memory, with the index being secondary. We designed the data we wanted to collect, the submission process which included a well-planned Google form, and the final website that showcases every submission with an interactive map and filterable index.
4 of 8
Stories of Cinema, exhibition graphics for Academy Museum of Motion Pictures, with IN-FO.CO
The permanent collection at the new Academy Museum of Motion Pictures in Los Angeles, Stories of Cinema, features hundreds of original artifacts that tell the story of moviemaking from past to present.
I designed several exhibition walls, display case backgrounds, and illustrative graphics silkscreened on glass.
5 of 8
Hindsight is Twenty20, book for Slow and Steady Wins the Race, with Studio Lin
Slow and Steady Wins the Race is a conceptual clothing and accessory line that reinterprets the classical everyday wardrobe. In the wake of the global pandemic, they wrote a fun, interactive story that reminds us of the books that filled our childhoods with excitement and wonder.
I designed this publication and coordinated production of custom printed comb spines.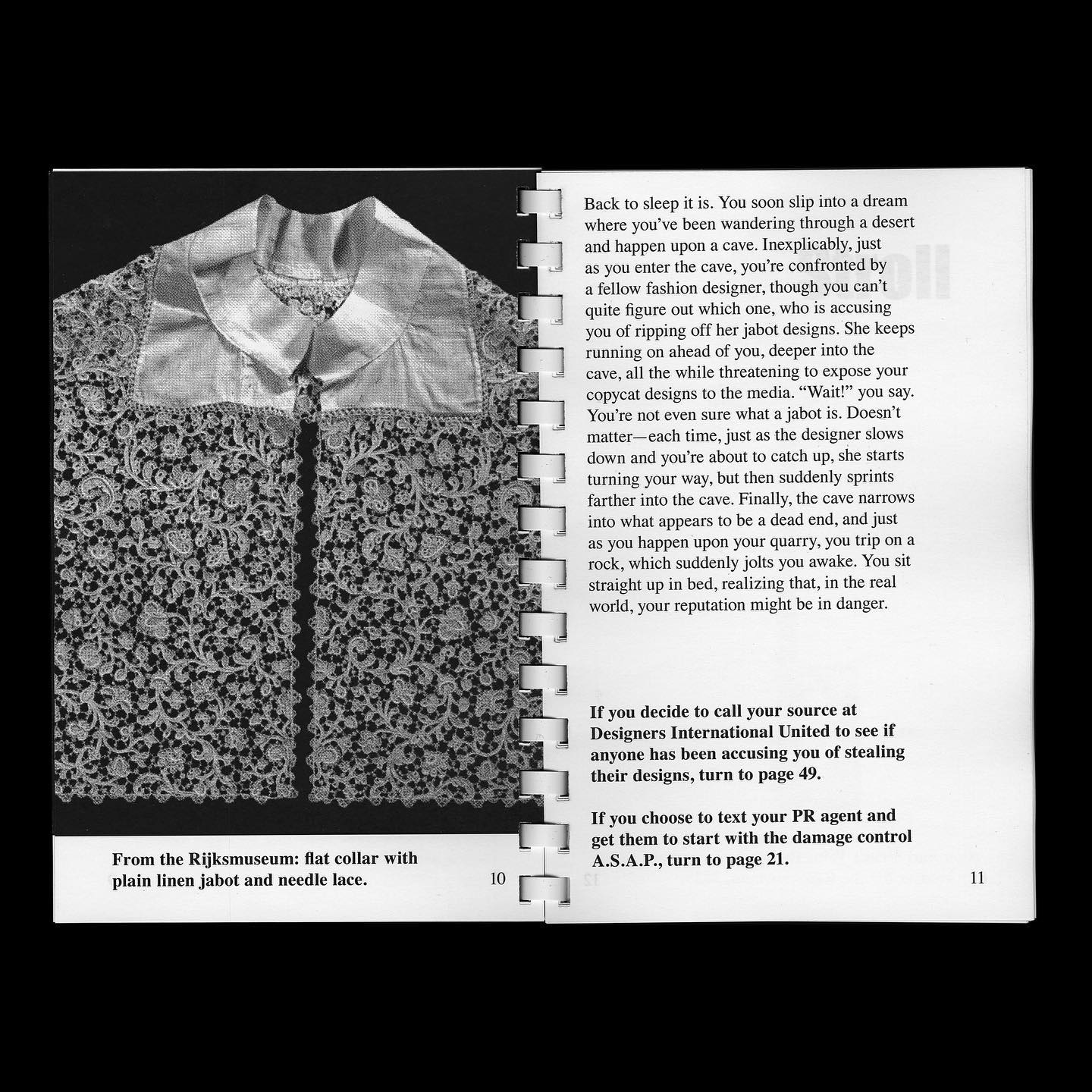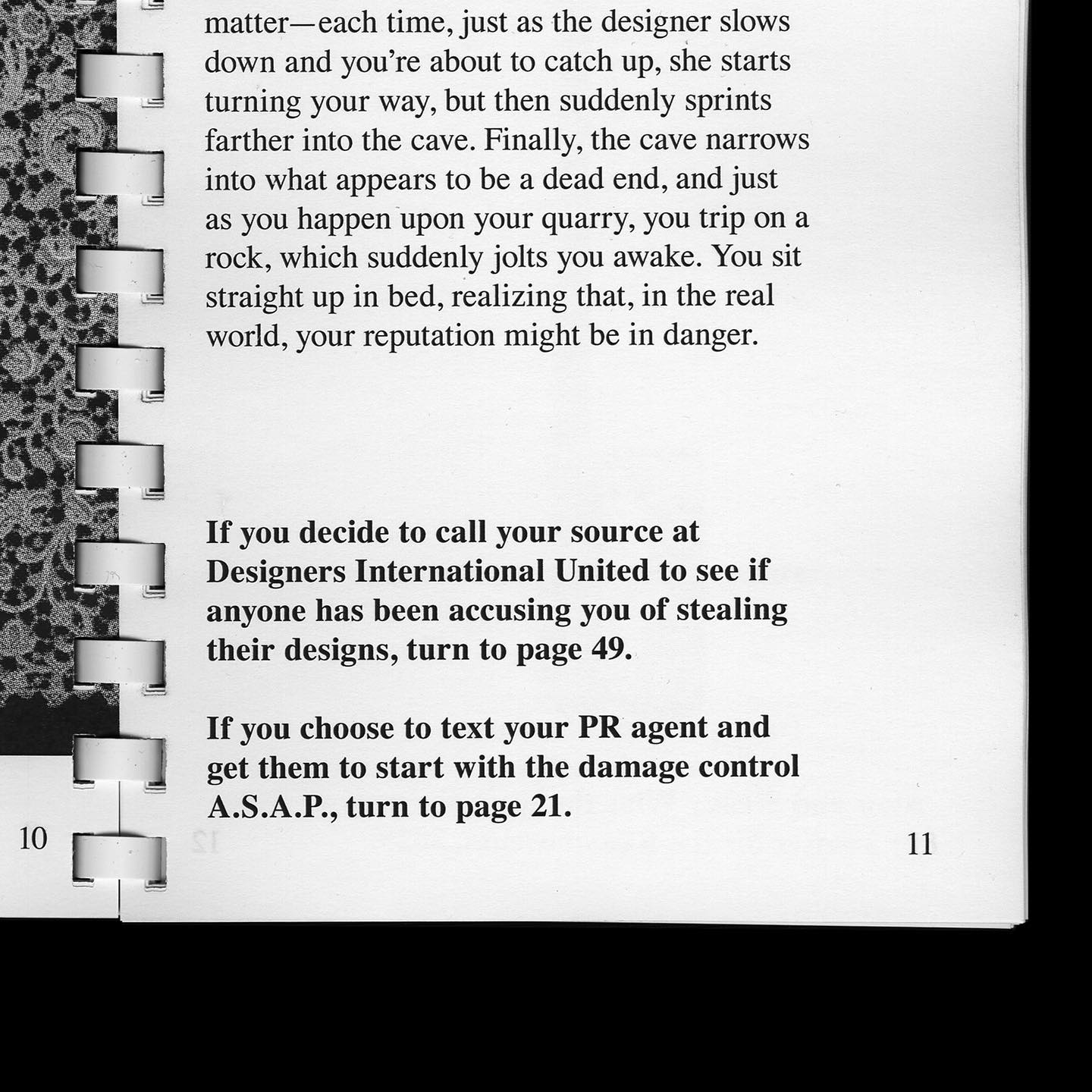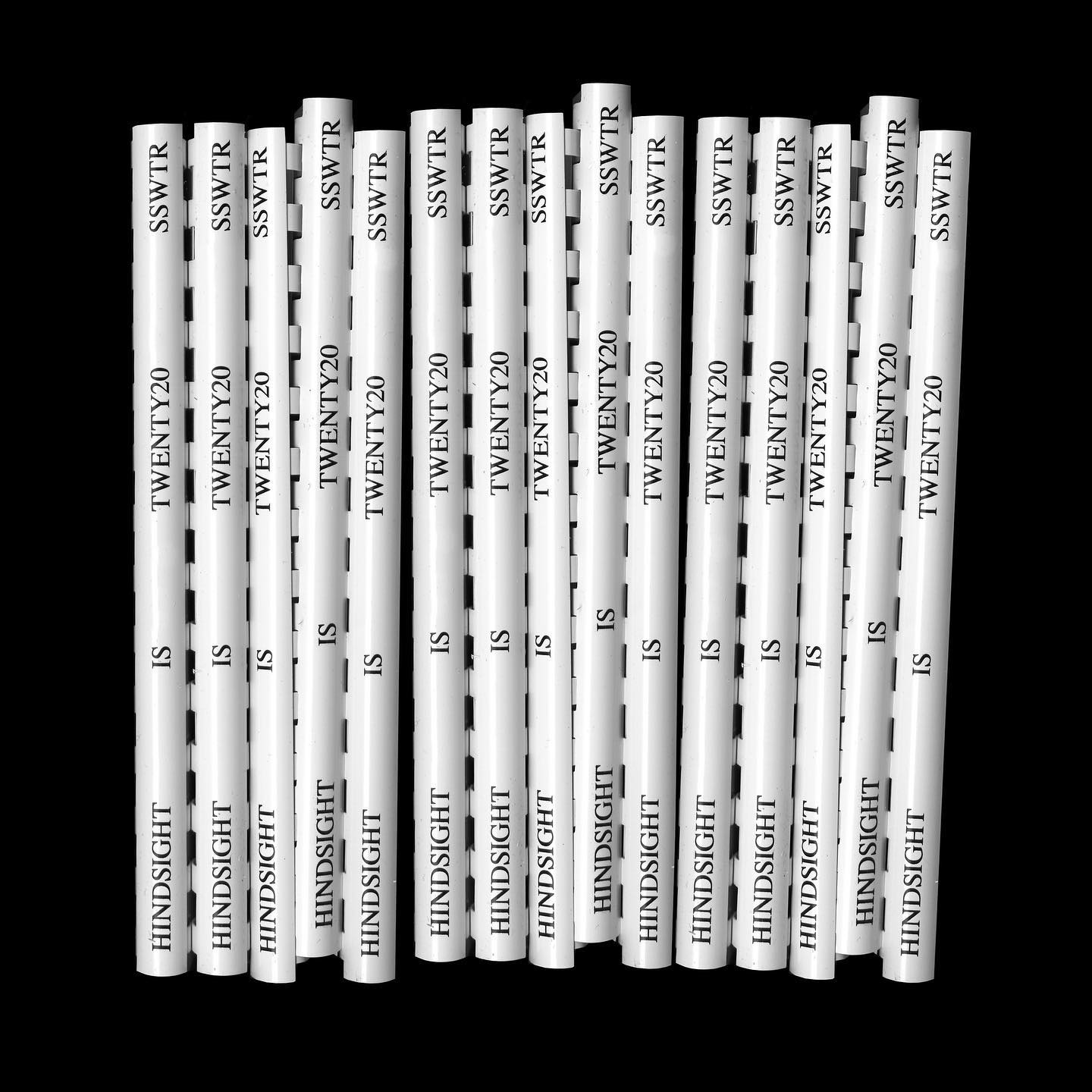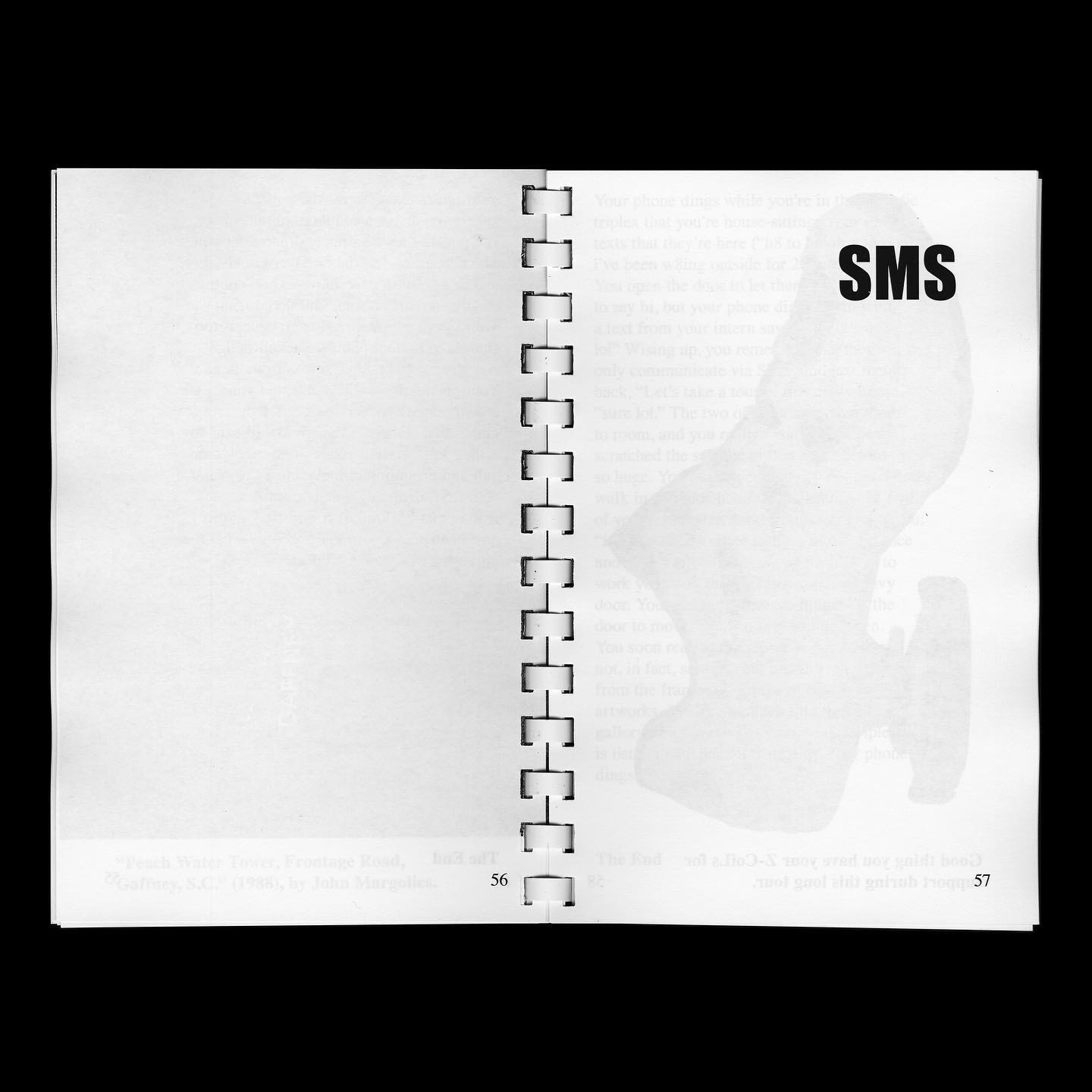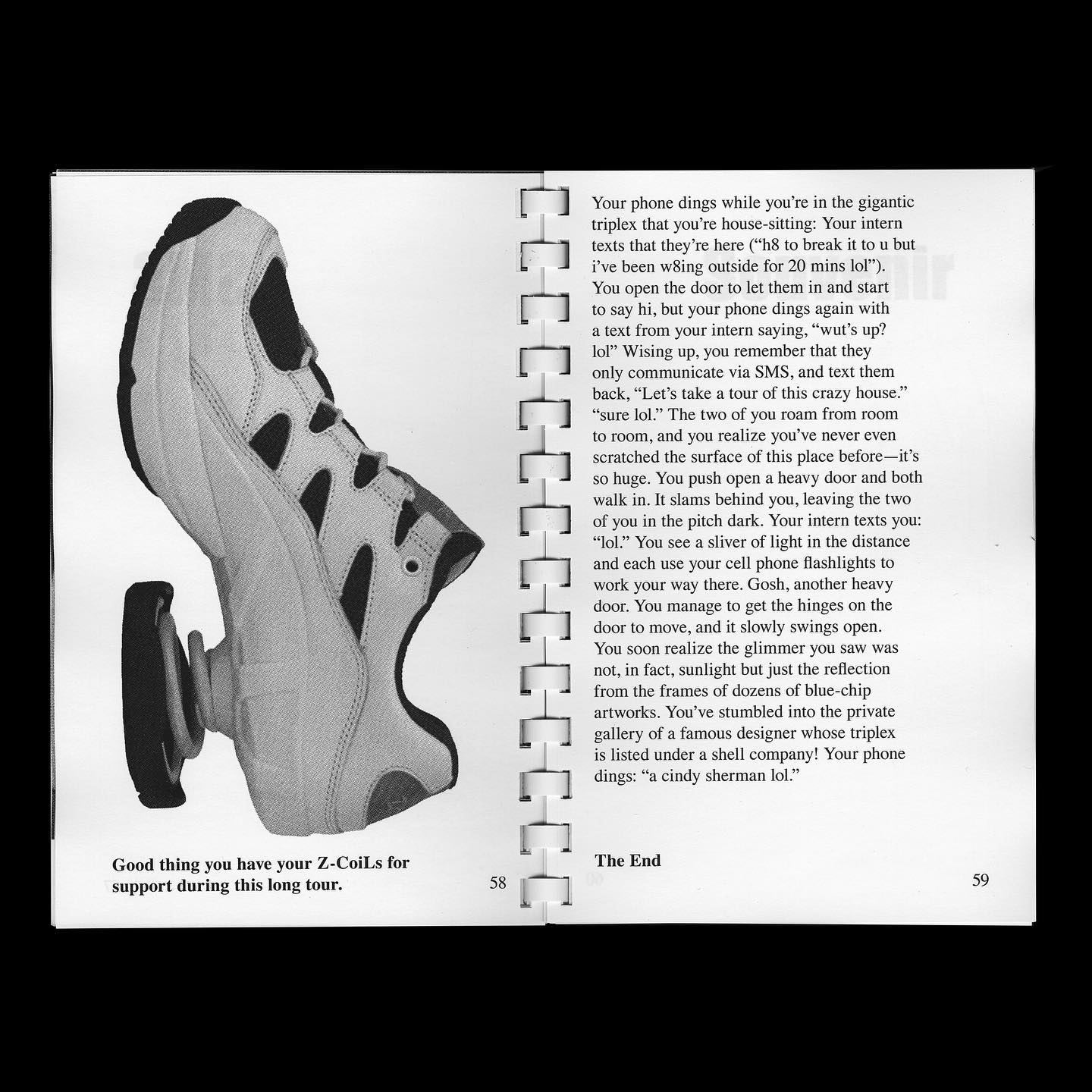 6 of 8
a-website-is-a-room.net, website for UCLA Design Media Arts capstone project
Faced with the task of choosing a capstone topic, I leaned into my appreciation for a few websites that I frequented and started thinking conceptually about the factors that shape the spaces we all find ourselves in on the Internet.
I did a lot of research, talked to some artists and software writers, and iterated through several ideas. The end result is a new little web space—handmade from scratch—that collects warm urls from visitors and documents some of my thoughts and conversations.
7 of 8
Greetings From, postcards for Metamorphosis group show, Award of Highest Distinction
Created during a time of isolation and distance, Greetings From is a set of 36 postcards that I designed, printed, addressed to friends, mailed out, and re-documented as an act of imagination, connection, and hope.
The imagery on each postcard is generated by a machine-learning model that is trained on a dataset of photos from my personal travels. Essentially, I extrapolated new imaginary worlds from memories and created travel postcards for these new destinations. The text descriptors are also generated by a machine-learning model that writes captions for image input.
This work was made for a group show that would take place virtually as a web page. I didn't like the idea of this as a restriction, so I made something that rather could only exist in this format. So, the finished work is the documentation of these postcards, which are in the hands of 36 different people and cannot be presented together physically.
8 of 8
DOWNbeat Summer Banquet, event identity for Denniston Hill
The Denniston Hill artist residency is all about rest, nourishment, and rejuvenation, through communion with nature and each other. These colors draw from hues found in the surrounding natural landscape, together forming an unusual gradient that's intriguing and exciting.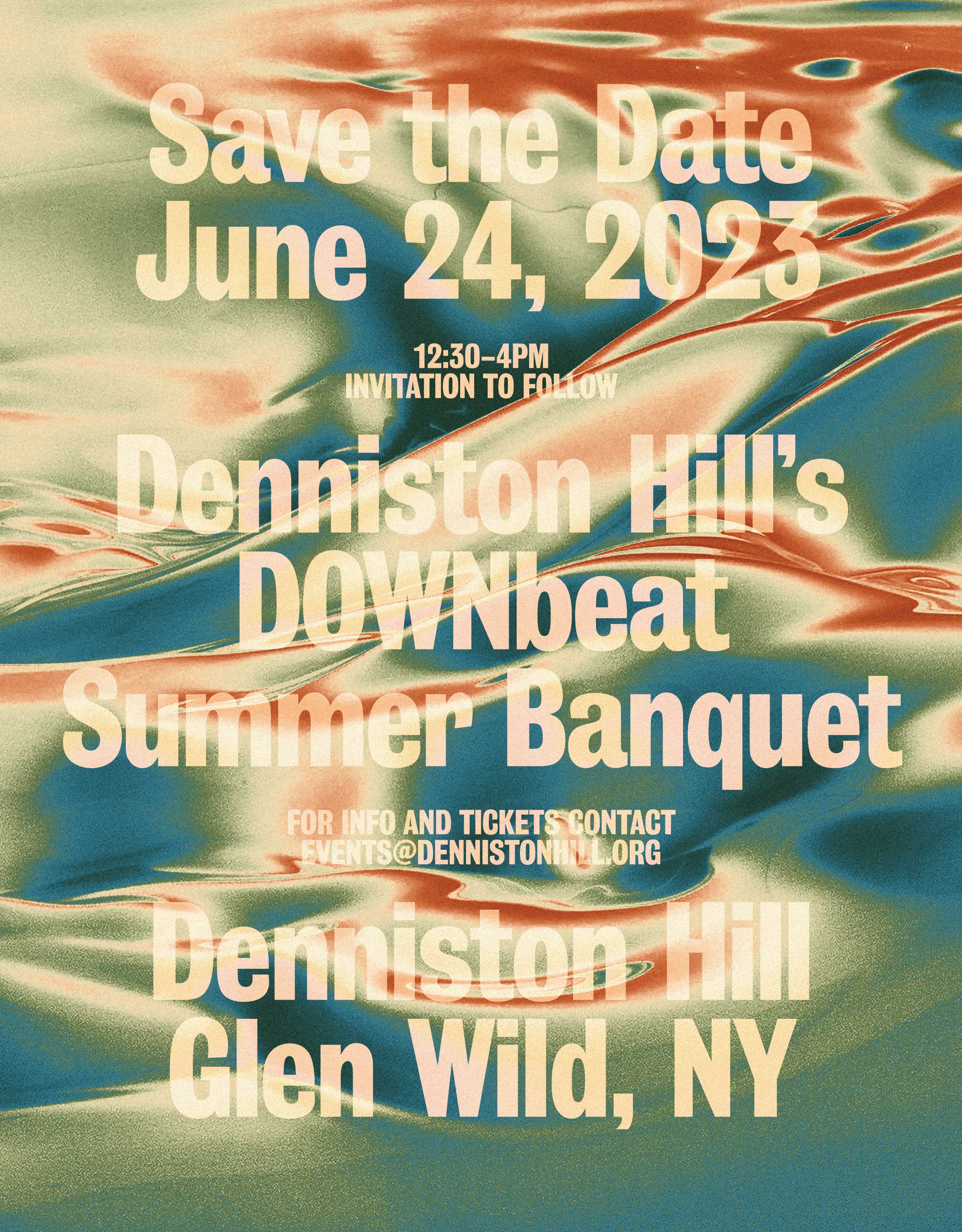 Currently available for freelance & collaborations :>
Previously at:
Studio Lin
Folder Studio
IN-FO.CO
The Underground Museum
Hammer Museum
Worked with:
Academy Museum of Motion Pictures
Canadian Centre for Architecture
Denniston Hill
MOS Architects
Princeton School of Architecture
Slow and Steady Wins the Race
The Studio Museum in Harlem
UCLA Conditional Studio
Contact me at nancyqingwu (at) gmail (dot) com